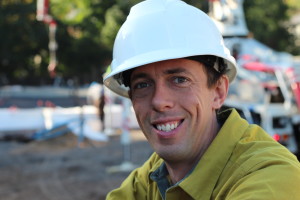 Welcome! We offer an ever growing range of European building products selected to mesh seamlessly with our own high-performance prefabricated structural panels and any project striving for ultra low energy consumption and unsurpassed occupant comfort.
I'm Adam Cronk, founder of Green Giant Design + Build. I've been involved in sustainable design and construction for nearly two decades – from New Zealand to the West Indies and throughout North America – as a designer, builder, and unrelenting energy nerd. That time has taken me from frayed back issues of Mother Earth News to the very latest research papers on PassivHaus and building science.
For anyone in Ontario who endured last year's winter construction season the thought "there must be a better way" was likely a daily occurrence.
Enter the amazing world of European prefabrication!
Spending months on site crafting thick walls, meticulously sealing vapour and air barriers, and dense packing thousands of pounds of cellulose insulation will be done faster, consistently, and affordably in the controlled environment of our new production facility.
The adventure began in mid-August 2014 in Picton, Ontario, and we plan to have a warm and productive winter in 12,000 sqft of modern production space. We've been busy rehabbing a derelict World War two aircraft hanger; it is in need of a great deal of attention, but it has tremendous potential with its cavernous space and existing infrastructure. We are thrilled to preserve a piece of history and give it a new purpose. You can follow our large-scale deep energy retrofit on Facebook and Twitter to see how the project comes together.
Our team of knowledgeable professionals is here to deliver building products of uncompromising quality. We reach far beyond just sales; we're designers, builders and environmentalists who are passionate about buildings and the people who live in them.